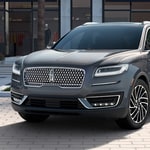 If the essence of charisma could be encapsulated as a luxury crossover, the end result would likely be a Lincoln Nautilus. This lavish ride is outfitted with a phenomenal array of trendsetting amenities that have made a profound impression upon the roads of Bountiful.
State-of-the-art refinement is ushered by the auto-folding side-view mirrors. These sleek apparatuses demonstrate the stylistic splendor of aerodynamic construction while majestically accentuating the grand external contour. The futuristic mechanism looks downright magnificent, and the automatic response serves to protect these stunning protrusions from the elements.
Eye-catching magnetism extends to the inside too, especially with the dramatic ambient lighting effects. With seven striking hues, you will cultivate a dazzling interior customization that can be instantly modified on the go. This brilliant inner illumination exudes a bold mix of approachable superiority and quaint creature comforts. Adjusting tones is a cinch, and so is scheduling a test-drive with Performance Ford Lincoln Bountiful.